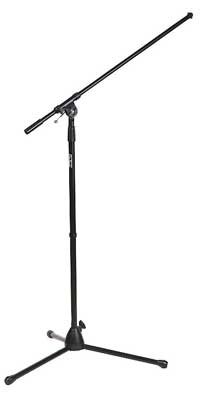 Gearrank.com, an online service that evaluates sound and music gear, has chosen On-Stage Stands MS7701B Tripod Boom Stand as its best inexpensive (cheap?) microphone stand.
The Ms7701B has a flat black finish, folding tripod base and telescoping boom arm. It is designed to use any accessory or clip that incorporates the standard 5/8″ thread pattern.
This stand will fully collapse for storage or transport and will lock down in this collapsed format so that the parts don't flop around.
Lightweight at just over five pounds, this boom stand is made of steel and has a tough clutch that will hold the stand in whatever configuration you choose.
Add vibration damping rubber feet, and you have all the features you need in a boom stand at a great price.